2020 IRS Cycle Code Chart

UPDATED January 2020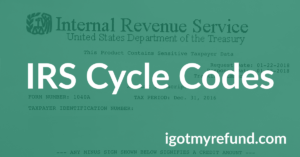 By using the chart below, you can translate your IRS cycle code into the calendar date in which your account posted to the master file. Your IRS cycle code can be found on your "account" transcript displayed as an eight digit sequence of numbers- such as 20200405. 
To view your online transcripts go to IRS.gov Get Transcript
The first six numbers are the cycle week and the last two numbers correspond with the day of the week.
Example 20200405: 202004=(Cycle) 05=(Thursday) = Thursday, January 16, 2020
Cycle Code Ending in 01= Friday
Cycle Code Ending in 02= Monday
Cycle Code Ending in 03= Tuesday
Cycle Code Ending in 04= Wednesday
Cycle Code Ending in 05= Thursday
2020 IRS Cycle Date
| CYCLE DATE | wdt_ID | CALENDAR DATE | DATE |
| --- | --- | --- | --- |
| 20200104 | 1 | Wednesday, January 1, 2020 | 01/01/2020 |
| 20200105 | 2 | Thursday, January 2, 2020 | 01/02/2020 |
| 20200201 | 3 | Friday, January 3, 2020 | 01/03/2020 |
| 20200202 | 4 | Monday, January 6, 2020 | 01/06/2020 |
| 20200203 | 5 | Tuesday, January 7, 2020 | 01/07/2020 |
| 20200204 | 6 | Wednesday, January 8, 2020 | 01/08/2020 |
| 20200205 | 7 | Thursday, January 9, 2020 | 01/09/2020 |
| 20200301 | 8 | Friday, January 10, 2020 | 01/10/2020 |
| 20200302 | 9 | Monday, January 13, 2020 | 01/13/2020 |
| 20200303 | 10 | Tuesday, January 14, 2020 | 01/14/2020 |
Other Transcript Topics
Transaction Codes and Error Codes