Estimated reading time: 3 minutes
Your tax return is still being processed. A refund date will be provided when available.
It is not time to panic if you check on the status of your tax refund and you see the message "Your tax return is still being processed. A refund date will be provided when available. It doesn't necessarily mean your tax return is being audited. Sometimes it's as easy as your return needing reviewed or some action needs to be taken by a human. In fact, we have found over the years that this message is rarely related to an audit. It could be something as simple as a small calculation error that needs fixed or that your identity needs verified. Likely, you will see an update soon on the WMR.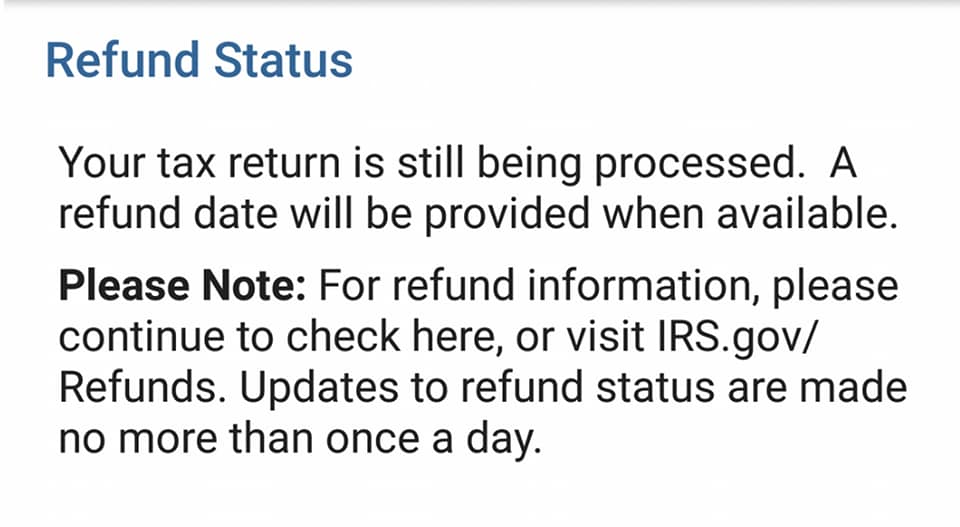 When you see that your tax return is still being processed, all this means is that something is preventing the IRS from standing behind their mantra that most refunds will be processed within 21 days. Maybe a hiccup. But again, don't worry, your refund might still come anytime. Or, it could be delayed. We have found sometimes this can be mystery. Year after year people are frustrated while they are still waiting on their tax refund while and see others getting their refunds very quickly. Over the years, we have gathered some information as to why your file may be resequenced or unpostable. Keep reading for more details.
What you can do if your tax return is still processing.
We think the best thing to do is not worry. But we know that is hard to do when you are waiting on a tax refund. Quite frankly, many people depend on large tax refunds each year. The next thing that happens is usually that people see an update very quickly to a new IRS status on the Where's My Refund tool. Or, a letter could be generated by the IRS if something else is required on your part and it will arrive soon.
Calling the IRS for this reason will not likely yield actionable intel. In fact, if you call more than once we have found that one representative could give you a reason and another could give you a totally different explanation. The feedback you get from an IRS isn't always reliable.
Wait for the next WMR update and keep an eye out in the mail for a letter. If something is needed on your part, they will let you know. The IRS will never reach out to you by telephone if there is a problem.
Let's talk about still being processed
We know, it sucks to be sitting in limbo. We are here for you to discuss this in our live discussion each year here and in our forums.
Click these quick searches to see the top recent conversations and what happened in prior years about resequencing or unpostable.
Resequenced
Resequencing happens when your tax return is pushed back one or more cycles for processing. Basically, moves your return out 1 or more cycles to be processed again. This action happens on the master file and the reason code for the resequenced transaction is something the IRS will see. It is not necessarily something you will be able to see on your IRS account transcript or something you needed to do. Resequenced Codes occur in the (IMF Only), not on transcripts.
Unpostable
An unpostable transaction is something that happens where a transaction can't be posted on the Master File. If this happens, the return will require some sort of corrective action by the IRS. The reason code does not appear to be something available to the public.