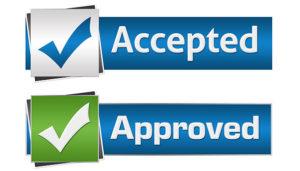 The IRS ACCEPTED status on Where's My Refund (WMR) means your "return has been received and that it seems to have passed a basic check for completeness."  During the basic check, the IRS also looks for red flags such as fraud indicators. "Accepted" is usually the 1st status most taxpayers will see when they check the WMR, unless the tax return has been rejected.  We wrote more here about rejected returns. The initial basic review when you file your tax return includes checks by the IRS for things like whether your social security number has already been used and if forms/fields not completed or are missing. There are also other basic checks that the IRS uses. After this, your return will be processed and the next status is usually that a refund has been approved.
The APPROVED status on Where My Refund indicates your "return has been processed and a refund is approved." "Approved" is usually the 2nd status taxpayers will see when they check the WMR if they are due a refund.  The status when your refund is approved will display a date that you can expect to receive a refund.
You may see these terms used on the IRS Where's My Refund website or the IRS2Go App. Also, tax filing companies such as H&R Block and TurboTax use similair terms to describe your return status on their websites, emails and text message updates.